The Current Condition Is Still Uneasy For OII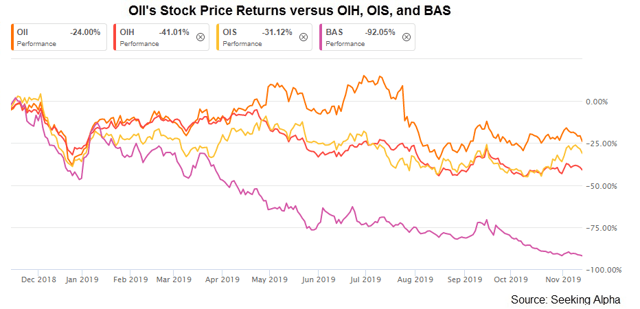 Oceaneering International (OII) provides engineered products and support services to the offshore oil and gas, defense, aerospace, and commercial theme park industries. Based on mild revenue growth and lower margin expectations, I do not think the stock price will keep strengthening in the short term as it did in the past few weeks. At this point, investors may start accumulating the stock with an expectation of appreciation in the medium term.
I expect the company's non-energy business to resume growth, albeit modestly, in the coming quarters. The ROV and Offshore businesses, however, will remain shaky. As the crude oil price continues to exhibit volatility, we will see uncertainty associated with the execution of the offshore projects in the short term until the price stabilizes. OII will look to trim capex significantly in FY2020 to boost its FCF generation.
What Are The Parameters Suggesting For The ROV market?
During the past couple of years, the offshore industry witnessed lower dayrates resulting from lower levels of offshore drilling activity. Expenses, on the other hand, increased due to the shorter duration of the contracts and reactivation of the previously idled systems. In response, OII decreased the ROV fleet size. Sequentially (quarter-over-quarter), the company's ROV segment revenue decreased in Q3 while the adjusted EBITDA margin inflated due to the gains from the sale of ROV accessory equipment.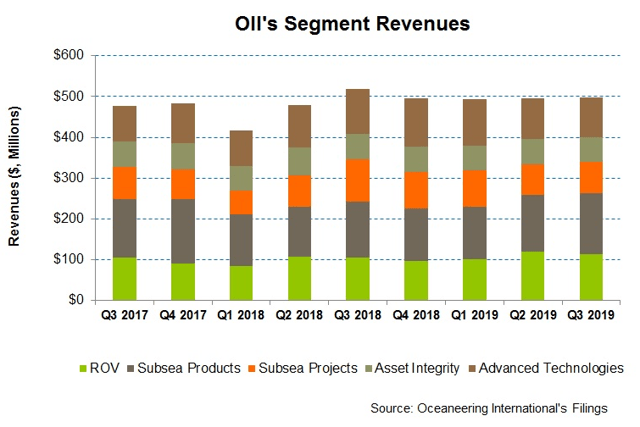 In…