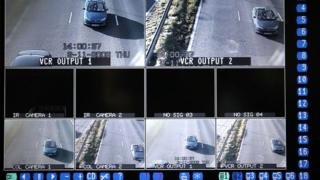 It is all quiet on a mid-morning weekday at the CCTV monitoring centre of Southwark Council, in London, when I pay a visit.
Dozens of monitors display largely mundane activities – people cycling in a park, waiting for buses, coming in and out of shops. On some there are glimpses of well-known London landmarks, like Tower Bridge or the Shard – the tallest building in the UK.
The manager here, Sarah Pope is media-shy and worries she might say the wrong thing. It is not entirely surprising, as surveillance is not a word that conjures up positive images in many people's minds.
There is no doubt that Sarah is fiercely proud of her job. What gives her a real sense of satisfaction is "getting the first glimpse of a suspect… which can then guide the police investigation in the right direction," she says.
Yet for many, surveillance does not mean increased safety, but the loss of privacy and an infringement of civil liberties.
Manufacturing of CCTV cameras and facial recognition technologies is a booming industry, feeding a seemingly insatiable appetite. In the UK alone, there is one CCTV camera for every 11 people.